Device for the Transmission...
Robin Parmar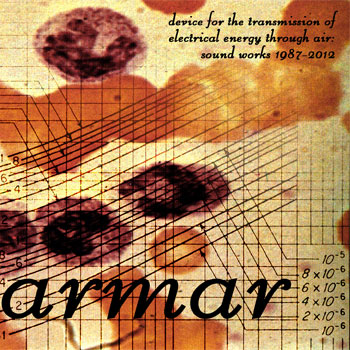 These recordings are the extant traces of radiophonic experiments made on analogue equipment between 1987 and 2012. As such they represent the mediums of radio (AM, FM, shortwave) and tape (cassette, microcassette, cart, and open reel) in relationship to the somatic and the linguistic.
This is a CD-R edition in wrap-around colour cover, limited to 100 copies. The first 50 copies are signed and numbered.
Temorarily unavailable as we transition this release to Bandcamp.
Device for the Transmission of Electrical Energy Through Air: Sound Works 1987-2012
Tracks:
2. What Do They Call It? Radar? [7:27]
3. Ouroboros [10:25]
4. Shortwave (Jake in Lexington) [5:10]
5. Obsessive-Compulsive [0:55]
6. Celibacy [3:18]
8. Engram Station (ground) [5:58]
9. N5E0W0S [3:42]
11. Please Hang Up [4:37]
12. Touchstone [7:19]
14. Engram Station (figure) [4:24]
(plus incidental announcements)
A version of this album was originally released in 1999 in a limited edition attributed to escalation 746. At that time "Obsessive-Compulsive" was added as a supplement, to bring the collection up-to-date.
This version contains a different track sequence plus two previously unreleased recordings. "Shortwave (Jake in Lexington)" and "Celibacy" were edited in 2012, in order to demonstrate the continuity of my methods and interests over 25 years.
File under: radiophonics, noise, drone, cut-up, language, feedback, radio art, hauntology
Listen to the full album track "Shortwave (Jake in Lexington)".
Listen to an excerpt from "Ouroboros".