Neural Atlas
Fergus Kelly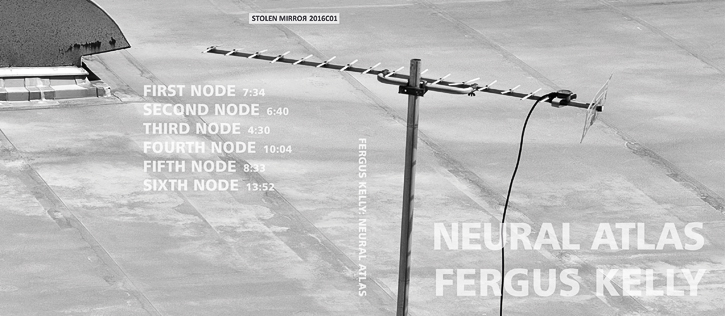 As we walk the city, we are immersed in complex electromagnetic fields, emanating from cell phones, mobile computers, cash points, and security systems. Like blind deep-sea fish, we swim in this ocean of radiation, unaware that it permeates the air we breath, irradiating our skin, penetrating our cells.
Composer Fergus Kelly is well known for his powerful interpretations of field recordings. For Neural Atlas, fellow sound artist Robin Parmar provided a collection of electromagnetic recordings, gathered from laptop computers, transformer substations, digital cameras, and other devices. From these sources, Kelly has created a powerful series of glitched and distorted signals, rich in depth and tonality. The title of the CD hints that this sonic atlas might be a map of an overloaded nervous system.
Fergus Kelly is a sound artist and improvising musician from Dublin, whose work has been featured on many solo and collaborative releases over the last two decades. He is known for performance, installation, and fixed sound works of uncompromising character and intensity. His many releases, performances, and awards have gained him an international following. Neural Atlas is his first release for Stolen Mirror, as part of our commitment to exciting contemporary Irish composers.
The limited edition compact disk has been released in a four panel digipak. Use the button to purchase your copy for 15 EURO, which includes world-wide shipping. For details, visit our sales page.
Listen to one of the tracks below, via Soundcloud. Subscribe there to keep abreast of our new releases.