Telegraphic
Robin Parmar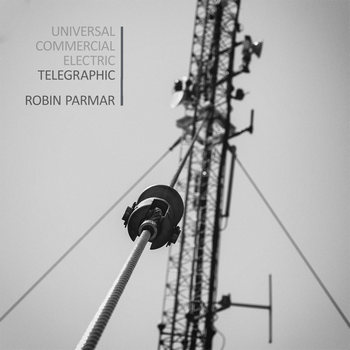 File under: ambient, instrumental, sequencer, beats
Code: 2020D01
The telegraph allowed instantaneous point-to-point communication over the wires. But messages were expensive and business was competitive. The ABC Universal Commercial Electric Telegraphic Code provided single-word abbreviations for common phrases and transactions. This both saved money and provided a degree of obscurity, since only someone with the same code book would understand the message.
Universal Commercial Electric Telegraphic is the latest album from Robin Parmar. Originating in sequencer experiments from 2013, the music is comprised of patterns permutated over time, evolving new ambient electronic landscapes. The sound has an analogue warmth, relying on tape degradation, echoing patterns, and interlocking rhythms.
Each of the four tracks is named after one of the poetic code words found in the ABC volume, fifth edition, published 1901.
Listen
Released in the time of COVID-19, all profits from this album will be donated to Médecins Sans Frontières. Please purchase, enjoy, and help someone in need of medical assistance due to conflict, epidemic, or disaster.
Visit Bandcamp to hear all four tracks.
You will receive a bonus track with the purchase of the full album, the minimal 2013 version of "Arraschid".
Credits
Originally recorded at Studio Ubiquity in 2013. Composition, production, and artwork by Robin Parmar.
Released 14 March 2020.