Tides: An ISSTA Anthology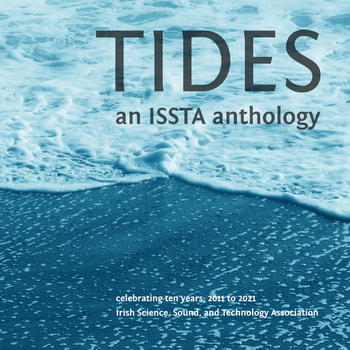 File under: electroacoustic, electronic, soundscape
Code: 2021D01
Over the past decade, the Irish Sound, Science, and Technology Association has hosted conferences and concerts across Ireland and online. We celebrate the tenth anniversary of ISSTA with Tides, an anthology of 24 diverse and innovative artists.
This collection represents a rich history of activity in electronic and acousmatic music, soundscape composition, live performances, and sound installations. Much of the music is available here for the first time.
Tides is a monumental three-and-a-half hour compilation, provided free for your listening pleasure. Liner notes include descriptions of the work and artist contacts.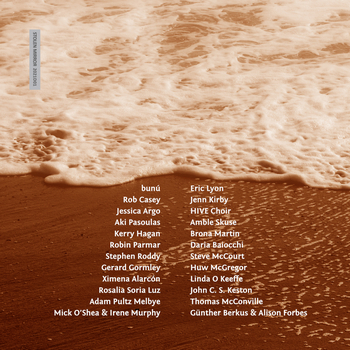 Be part of the launch event!
Register at Eventbrite for the following:
Friday 23 July 6-9pm
Livestream première on YouTube.
Be the first to hear Tides and chat with the artists.
Saturday 24 July 6-8pm
Zoom launch party with artist discussions and celebrations.
Contents
Tides One
1. Günther Berkus and Alison Forbes | Evolution (excerpt)
2. Jenn Kirby | Phonetics
3. Daria Baiocchi | Sospeso
4. John C. S. Keston | Generator
5. Brona Martin | NightEscape
6. Ximena Alarcón | La Fumigacion de La Luna
7. Huw McGregor | Metronic
8. Thomas McConville | How to Be a Human Being: Lugs
9. HIVE Choir | A Sono-Ocular Study (redux)
10. Robin Parmar | Perturbation (edit)
Tides Two
1. Aki Pasoulas | Irides
2. Rosalía Soria Luz | Synthetic Springs
3. Linda O Keeffe | Baseline
4. Steve McCourt | AC-5
5. Adam Pultz Melbye | We're Running out of Sand
6. Jessica Evelyn Argo | 1 Violence
7. Mick O'Shea and Irene Murphy | In the belly of my garden (excerpt)
Tides Three
1. Rob Casey | Moya's Lament (excerpt)
2. Gerard Gormley | Testure
3. Eric Lyon | Clusters
4. Kerry Hagan | s/d
5. Stephen Roddy | Idle Hands
6. Amble Skuse | Balancing Act
7. bunú | Lough Foyle (excerpt)
Credits
Curated by the ISSTA board: Jenn Kirby, John D'Arcy, Brona Martin, Rob Casey, Robin Parmar.
Compiled and mastered by Robin Parmar at Studio Ubiquity, Ireland.
Design and photography (Lahinch beach) by Robin Parmar.
All rights remain with the individual artists. Compilation © 2021 Stolen Mirror Publishing.
Dedicated to the memory of Günther Berkus.