Avoidance Strategies
Robin Parmar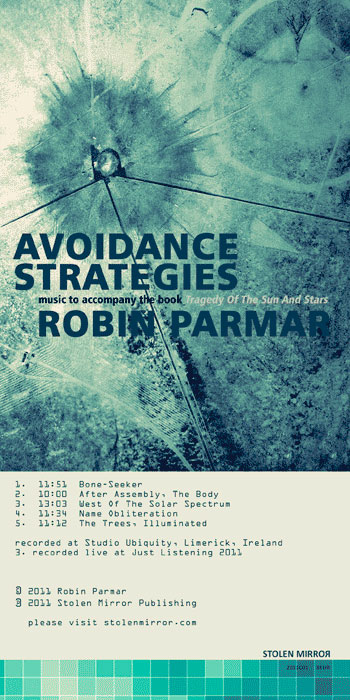 The music on Avoidance Strategies was generated entirely from feedback loops within a custom software system. Each evolving sonic ecosystem was played live as an improvisation between man and machine. The resulting complexity belies the fact that no samples, synthesisers, overdubs, editing or post-production was applied. Fans of noise, drone and ambient musics will all find something here to enjoy.
The "no input mixing desk" is a soundboard with outputs wired to inputs, thus creating a feedback loop. The No Input Software Environment (NISE) brings this process inside the computer, where virtual circuits provide the only sonic material. Resonant filters create chaotic attractors, dynamic compression boosts the noise floor, frequency equalisation tailors timbre and delay lines disperse frequency concentrations over time. As this emergent system evolves, tiny changes to the control parameters produce divergent results. This cybernetic system challenges the naive belief in the digital domain as a site of perfect representation and replication.
This CD is designed to accompany the book Tragedy of The Sun And Stars, though they may certainly be enjoyed separately.
This album is available in both a digital download and as a CD-R edition in wrap-around colour cover, limited to 100 copies. The first 50 copies are signed and numbered. Purchase through the BandCamp player below.
CODE: 2011D01 / 2011C01
Important Listening Note
The tracks on this record make use of binaural beats and other psychoacoustic effects. These phenomena are significantly diminished by audio compression schemes. Please purchase uncompressed audio (or the CD) to hear the sounds as they were intended.
Bonus
For the first year after release, "The Department Of Fallout" was available here as a free download. Now it is only available as a digital file with the full purchase of the album. Though of course you are free to listen to it as you wish!
Related Works
"West of the Solar Spectrum" was recorded live at Just Listening 2011, a concert organised by the National Sculpture Factory. An edit of this track may be found on the compilation CD available from Farpoint Recordings.