The Absence of Baudrillard
Robin Parmar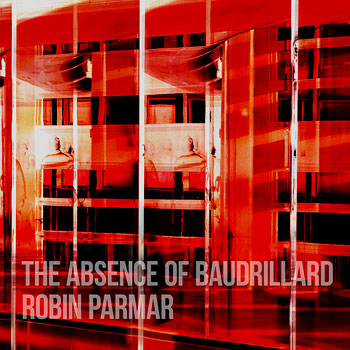 To kickstart 2015, Stolen Mirror presents The Absence of Baudrillard, an album of glitched voice and post-digital reconstruction that has a very special genesis.
Listen below or visit Bandcamp to download.
Ten tracks totalling 33:00.
Download includes three-panel art.
File under: glitch, experimental, post-digital, voice
Code: 2015D01
Following the premature passing of French philosopher Jean Baudrillard in 2008, a commemorative event was held at Antiquariat am Ballplatz, a bookshop in Mainz, Germany. Die Gegenwart Von Jean Baudrillard was an eclectic happening, including a harpsichord recital, a paper by Baudrillard's widow, tango dancing, an exhibition of Baudrillard's photography, and other activities.
That event was opened on 25 October with an electroacoustic improvisation by Robin Parmar. This piece began unannounced and built slowly from the background chatter of the bookshop, into a furious assembly of reconstituted vocal samples.
This album concludes with that live performance. But first a suite in eight parts, created between October 2008 and March 2015, rethinks (or perhaps "unthinks") the underlying processes. A short utterance from Baudrillard is the complete and entire source for this album.
The Absence of Baudrillard is a companion piece to the anthology, Jean Baudrillard: Fest für einen Toten, edited by Caroline Heinrich (Ventil Verlag, 2015). Parmar's chapter, "Digital anxiety dispelled: granular synthesis and the paradox of discontinuity", develops some of the concepts embedded in this piece. The book is available at Amazon Germany. (Please note that the book is in German.)
Robin Parmar is an electroacoustic composer, improviser, and sound artist based in Ireland. His pieces have been played in Canada, United States, Spain, Portugal, Slovenia, Ireland, England, Germany, and Sweden.